Verizon's new bill resembles an app
If you have Verizon, you're going to see a new bill format coming in the mail soon. Based on years of experience digging through fine print and analyzing thousands of wireless bills, I have to say: aside from not showing voice total usage or any text/ pic messaging, this is a great improvement in wireless billing.
Here's a comparison of the first page from the old (left) and new (right) bill formats. Notice how items are grouped by icons and the text is all centered; It's reader-friendly, like a personalized app, and less like an out-of-touch obtuse invoice.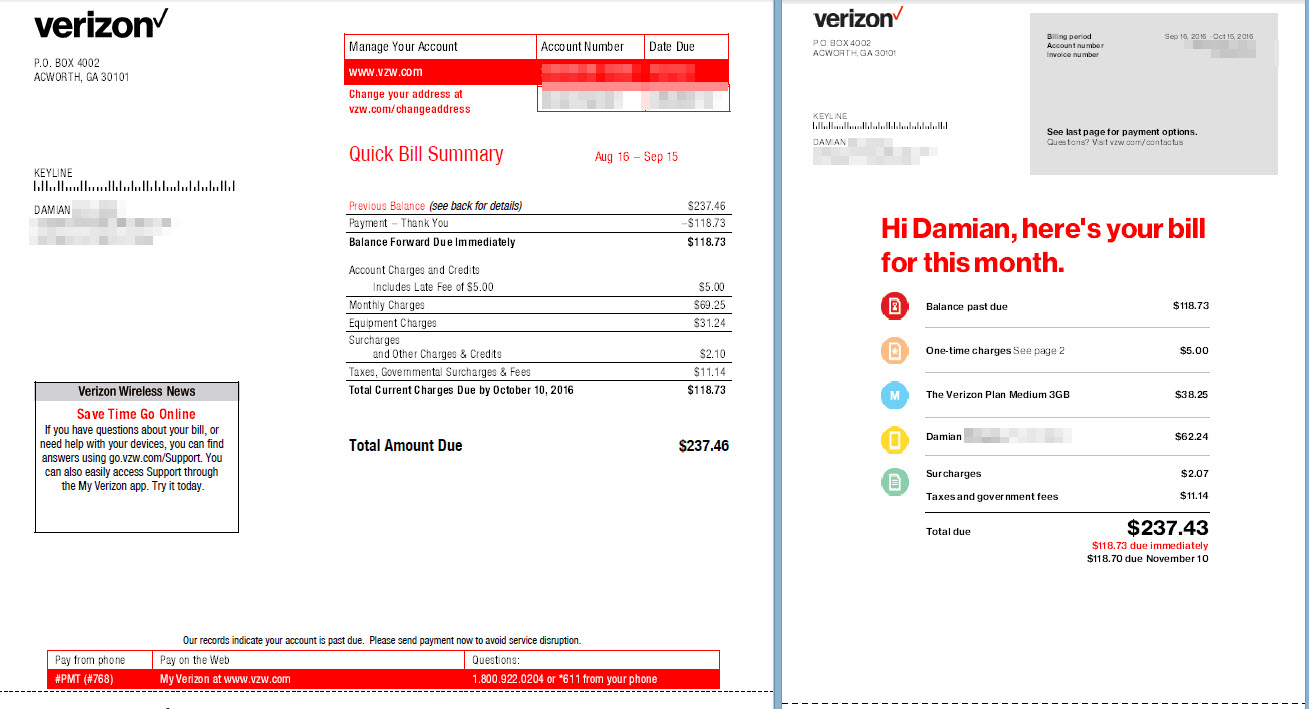 figure: Old Verizon bill (Left) compared to new Verizon bill (right)
Not only is the layout improved, but there is more helpful information that benefits modern-day wireless users. Here are five new helpful pieces of information you'll see on Verizon's app-view bill format:
FreeBee Data – This is your data usage that was sponsored–it's free. If you ever want to leave Verizon, it's important to know how much data you use and how much of it was sponsored. If you used 1GB of sponsored data and 2.5GB of regular data, you'll be fine on Verizon's 4GB plan. If you switch to AT&T you couldn't move to their 3GB plan, you'd have to go on their 6GB plan for $20 more, because AT&T might not have the same sponsored data.
Estimated top activities (Total account) – This shows the percentage of data usage type: Web & Apps, Social, Audio. This section is for all the phone numbers on the account. There are so many reasons why this is helpful (also see #4): helps you understand how you're using your device, understand overages, and keep an eye on your kids usage. I've been doing this for years and the question remains: What the heck is a GB anyway? This helps people translate technical jargon into real life.
Usage history – Now you can see three months of data usage on every bill. Hallelujah! It's helpful to see usage from three months of bills to understand what plan you should be on. The thing is, no one likes opening a bill let alone three. Verizon took down that "cross reference" barrier by adding historical data usage.
Estimated top activities (Per phone number) – Wonder who's using all that data on your family share plan? Wonder no more, as the new VZW bill format succinctly lists the data used by each device on the account.
figure: All the new stuff on Verizon's new bill
5. Splitting the bill: While the breakdown of each phone number won't include its' total surcharges and taxes, Verizon made a nice addition called "splitting the bill". It shows up toward the end of your bill, under the section "You've got options". This shows the total amount for each phone number, and it includes the surcharges and taxes missing from each phone numbers breakdown.
figure: What splitting the bill looks like (phone numbers edited)
These are great improvements, but there is one thing that bugs me.
Voice and Messaging usage is no longer on the bill.
As I mentioned in the opening above, Verizon's new bill doesn't show total voice minutes. Minutes are shown only in call detail tables, but they lack a total at the bottom. You'd either have to be pretty persistent to add up every minute from every call you made last month.
Just like voice, there are no total amounts shown for text/ picture usage. Not only that, but messages aren't shown anywhere on the bill. No call detail table, nada, zip, zilche.
I can see why Verizon does this, it serves their customers very well. All of Verizon's plans include unlimited voice and messaging, so why bother itemizing something without limits? It's all good unless your job requires you to bill clients for text message communication, or you're looking into wholesale carriers without unlimited voice & messaging like Ting or Tracfone. I'm disappointed to see this detail removed because voice and messaging aren't exactly free, they're baked into the line access costs.
First we'll have to see if enough Verizon customers even care about this, and if Verizon is willing to adjust their bill format again.
figure: Verizons call detail, without a total of minutes used
Overall this bill format is a great improvement and while there are minor accounting issues, this format is Wireless Butler approved!